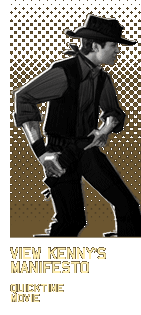 Kenneth Joel "Kenny" Hotz (born May 3, 1973, in Toronto, Ontario, Canada) is a Canadian filmmaker, actor, producer, director, journalist, photographer and writer. He is most famous for co-starring with Spencer "Spenny" Rice on the Canadian television show, "Kenny vs. Spenny."
Hotz made his first film at the age of seven while attending film camp. He has been a photographer since 1986 - photographing numerous countries and historic world events. His photo essays include Auschwitz, Dachau, Needle Park (Zurich, Switzerland), David Koresh, Mount Carmel, Waco, Texas aftermath and New Years Eve in Times Square 2000.
In 1989, Hotz began making documentaries. He also came up with the idea of developing a television show in which he and a friend would compete in a series of challenges to prove who was the best. This idea later evolved into "Kenny vs. Spenny." In 1991, he traveled to the Middle East to cover the Gulf War - the only registered Canadian artist to do so. Numerous Canadian institutions including the national and provincial archives have acquired his work. He won the best student photo award for his photograph "Life Behind the Mask" in 1992.
Hotz graduated from the Media Arts program at Ryerson Polytechnic Institute (now Ryerson University) in 1992. He then began work on a comedic short film about the life and death of a homeless dwarf in Toronto named Shorty Gordie, which was a winner at the Hot Docs film festival.
In 1997, Hotz spent time working as a writer on the American live action series, "Teenage Mutant Ninja Turtles." He also starred with Spencer Rice in the documentary, "Pitch." In 1999, he moved on to Los Angeles to develop television programming. While there, he began development on "Kenny vs. Spenny" (which was nominated for a Gemini award in 2004 and 2006).
In 2004, Hotz and Rice appeared together on "Late Night with Conan O'Brien." Hotz also finished work on "The Papal Chase," a documentary film chronicling attempts by Hotz (who is Jewish) to meet Pope John Paul II. The film, which features cameos by the Rolling Stones and the Pope, won the acclaimed Phillip Borsos Award for Best Canadian Feature Film and an unprecedented $10,000 cash prize at the 2004 Whistler Film Festival. In 2005, the film also won the People's Choice Award for Best Canadian Feature at the Canadian Filmmakers Festival and the Audience Award for Best Documentary at the Brooklyn International Film Festival.
Hotz created the concept for "Versusville" - a 3D video game that accompanies the "Kenny vs. Spenny" series. The game was nominated for a Canadian New Media Award for Excellence in Gaming. He also recently wrote/consulted on the animated Emmy-Award winning COMEDY CENTRAL series, "South Park."
Rice and Hotz teamed up again to develop, produce and star in a comedy/reality television pilot "Kenny vs. Spenny" for the USA Network. The first season aired on CBC and is currently on Showcase Television in Canada and 150 countries worldwide. The show and its format have been sold internationally and has been nominated for the prestigious Rose D'or and four Gemini awards. After 73 episodes, "Kenny vs. Spenny" premieres a new 6th season on Showcase in Canada and numerous countries worldwide.
Hotz was a contributing columnist for Vice Magazine and in 2006, won the WTF best story award for an article he wrote in the Fiction issue. In 2008 Hotz had a memorable cameo in Kevin Smith's 2008 film Zack and Miri Make A Porno, starring Seth Rogen and Elizabeth Banks. Most recently he created a 13 episode series for FX called "Testees". Hotz was spotlighted on MTV cribs and CBC's "the hour. He is also one of the only Canadian celebrities who has appeared as a guest on Jimmy Kimmel, Tom Green Live, Carson Daly and Late Night with Conan O'Brien. In October of 2009 he launched an American ad based agency that produces viral content for products "epidemic media" was co-founded with his partner Jordan Mendell the creator of ando.com and is in association with Triton Media Group.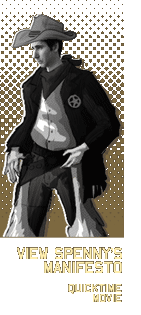 Spencer Rice is a writer, director and performer. He has written projects for both film and television, produced four films, and performed stand-up comedy in both the United States and Canada.
Rice was born and raised in Toronto but spent a lot of time with his mother who was living in Los Angeles and dating an actor on the television series Dallas. Rice recalls, '"Being on the set was amazing. Victoria Principal gave me a kiss on the cheek and it was at that moment I knew I wanted to work in the entertainment industry."
With seven years of psychoanalysis behind him, Rice played guitar in a The Delta Devils Band and went to York University to study film and television. While in school, he made Telewhore, a documentary about a phone-sex girl, which was shown at the Toronto International Film Festival, and was sold to Channel Four in Britain. He also directed, wrote, and acted in a short film called Something Anything, which won the prestigious Tele-Fest Award for best comedy.
Rice later teamed with childhood friend Kenny Hotz to direct and produce It Don't Cost Nothin' to Say Good Morning, a film about a lovable hobo named Shorty Gordie. The film was nominated for best short at the Hot Docs Film Festival. The duo went on to write four more comedy feature scripts and an episode of Teenage Mutant Ninja Turtles for the Fox Broadcasting Company.
Shortly after writing their first comedy script, they decided to film their attempts to sell it. The result was Pitch, a feature-length film that documented the duo's hilariously futile attempts to sell their script. The film's highlights include cameos by Roger Ebert, Neil Simon, Al Pacino and many other celebrities. Pitch was featured at The Toronto International Film Festival and won the Best Film Award at the Toronto Independent Arts Festival.
Rice and Hotz teamed up again to develop, produce and star in a comedy/reality television pilot entitled Kenny vs. Spenny for the USA Network. The first season aired on CBC and is currently on Showcase Television in Canada and GSN in the United States. The show and its format have been sold internationally and, in 2004, was nominated for a Gemini award. After 72 episodes, Kenny vs. Spenny is about to premiere a new sixth season on Showcase and is showing on Comedy Central in the United States.
Rice has just completed a pilot called Single White Spenny in which he wrote, starred, executive produced and was directed by comedy legend David Steinberg. Rice also starred and wrote the feature film Confessions of a Porn Addict distributed by Peace Arch Entertainment. He is also launching his website and loves puppies and kittens.